We expected something big when HTC invited us to London for the launch of their next-generation of smartphones, and they delivered the HTC Touch Diamond handset.  HTC wouldn't let us bring the Diamond back that we played with in the UK, but they did promise us our own and it arrived this weekend.  Read on for the first part of our exclusive HTC Touch Diamond review, beginning with the unboxing and some hands-on first impressions.
Based on Windows Mobile 6.1, the device certainly isn't lacking in its specs: 7.6Mbps HSPA, a VGA-resolution 2.8-inch touchscreen, WiFi b/g and GPS.  What tempted many Windows Mobile users most, however, was HTC's new 3D TouchFLO GUI, which sits over the top of the Microsoft OS and aims to make it a whole lot more usable.  You can see our initial TouchFLO video demo, shot at the launch, here, and obviously we'll bring you more on the GUI improvements in the second part of our full HTC Touch Diamond review.
As you can see in the video, the Diamond's packaging is unusual and, it has to be said, not the easiest thing to get open.  An outer cardboard box gives way to a plastic inner container, and inside there's the Diamond itself, a stereo headset (with the wires initially hidden, so you momentarily think they're cordless), a USB cable which doubles for recharging (with the power brick) and hooking the smartphone up to your computer, the stylus and a couple of screen protectors for the touchscreen.  The usual software and manuals are provided on CD, with very little paper documentation.
The power adaptor is of a similar shape to the outer box, and can be fitted with different slot-in plug sections for different locations.  Ours unfortunately came with European pins, not US, so we had to dig out a converter.  HTC obviously won't make that mistake come the Diamond's US launch!  The screen protectors are a nice touch; first of all, so much of the front panel of the smartphone is display, it's immediately at risk, and second HTC have used a traditional resistive (rather than capacitive, like the iPhone or the Samsung Instinct) panel which is softer and arguably more susceptible to damage.  One notable omission is the self-cleaning case HTC were so proud of.
That's a shame, because our first few hours with the Touch Diamond have confirmed that it's a real fingerprint-magnet.  The touchscreen and glossy bezel obviously gets its fair share of prints and smudges, but the faceted rear panel is also incredibly prone to them.  While HTC seem to have used a quality plastic, it's certainly no replacement for a proper metal casing.  However tweaks like the magnetic stylus-bay – which draws it in and holds it in place magnetically – bolster the device's feeling of being special.
Turned on, and fingerprints and plastic casings fade quietly into the background; the 2.8-inch VGA display is simply incredible.  It blows away even HTC's higher-resolution screens on larger smartphones.  Colors are rich and viewing angles broad (although it's proving tricky to photograph), and the whole thing moves without a hint of sluggishness.  WM6.1 itself is rendered beautifully, but TouchFLO 3D really comes into its own: for once we feel we could recommend a Microsoft smartphone to a relatively novice user without expecting several hours of "how do I…?" follow-up calls!  Expect plenty more in-depth coverage of TouchFLO 3D in the second part of our review.
It's too early to call things on battery life, but we'll be watching the gauge carefully and tracking just how much juice the relatively small 900mAh battery can put out.  HTC themselves seem to have admitted that the supplied power pack is a compromise between size and performance, as they'll be selling a larger-capacity version (with a deeper rear panel) as an accessory. 
We're still excited about the HTC Touch Diamond, and we're looking forward to seeing how well it performs over the next few days.  It'll come with us to WWDC 2008, where we're expecting Steve Jobs to announce what could be seen as the Diamond's biggest rival, the 3G iPhone; you can follow our Apple Live Blog at http://live.iphonebuzz.com/ on Monday at 10AM San Francisco time.  Until then, and the second part of our HTC Touch Diamond review, enjoy the unboxing video and the hands-on gallery below!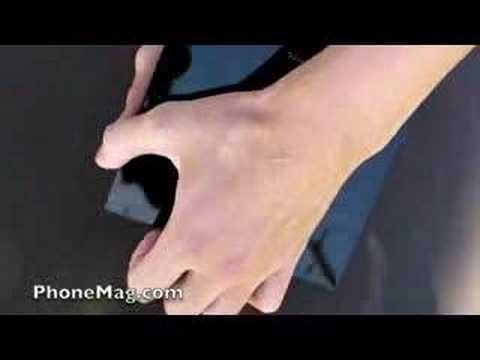 [nggallery id="97"]