Google just demoed Android at their IO event this afternoon, and man did they drop some bombs on us. The platform was amazing, we got a full screen demo, and even got to see the features like Google Maps, and the platform's WebKit based web browser. One thing we did not get to know though, is what in the world is that device that they are running Android on?
Well, unfortunately for us, Google would not reveal that much information, they did however reveal some specifications on the device. It has a 528MHz Qualcomm CPU, most likely the MSM7201A, which is the same CPU found in the HTC Diamond. The device is UMTS, and has a capacitive touch screen thanks to Synaptics. The device demoed had 128MB of RAM, and was using 3.6mbps HSDPA during the demo.
Hardware specifications aside, there is more interesting information that was revealed during the Q&A. According to Google, the launch of Android is still on track for the second half of this year. Google also is not making any requirements for use, if your device is capable, go for it, seems to be the semi official response. Another interesting point is that Android will not require a touch screen, and will work with D-Pad, and even trackball controlled devices.
Google could not disclose who was the manufacturer of the prototype device, due to a non disclosure agreement. Also, that very interesting unlocking method would not require a touch screen, Google says that a navigation pad or trackball would work just as well. Check out the full video of the Q&A below.
[Via Android Community]
Google IO Android QA Part 1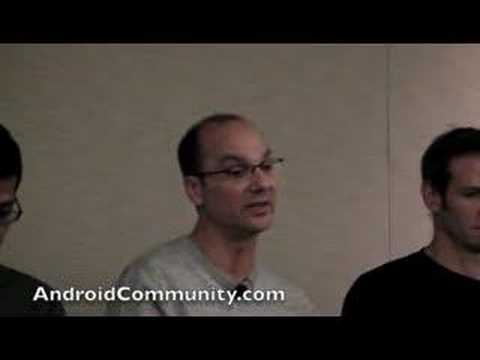 Google IO Android QA Part 2