PhoneMag first saw the Samsung F700 / Vodafone Croix in the flesh back in March, getting some hands-on playtime at CeBIT and generally falling for the powerful, HSDPA-packing slider. Then in September Vodafone announced they'd be selling the handset – as the F700V "Croix" – as part of their holiday line-up; that seemed like a great excuse to play with it again at an exclusive Samsung preview event. Now, I've been living with possibly the only GSM F700V in the US – outside of Samsung and Vodafone's hands – for the past couple of weeks, and after teasing you with some photos am pleased to bring you the exclusive PhoneMag review.
A little housekeeping to set the scene: the F700V is a tri-band GSM handset (900, 1800, 1900) with EDGE and HSDPA, capable of mobile broadband speeds of up to 7.2Mbps. Measuring 4.1 x 2 x 0.6 inches and weighing 3.2oz, it's a little smaller in all but thickness than the iPhone though its 2.78-inch, 240 x 440 touchscreen is considerably smaller than the Apple's 3.5-inch display. Samsung have packed a full QWERTY keyboard onto a slide-out section below the F700V's display, as opposed to the on-screen keyboard of the iPhone or the clamshell Verizon Voyager which requires two displays. Like the Voyager, the Samsung gives haptic feedback when the screen is touched.
Messaging is obviously a strong point on the F700V, with
SMS, MMS, instant-messaging and email all supported; there's also a 3.0-megapixel camera capable of both stills and video, and a microSD slot that will support cards up to 4GB in size. Unlike the Nokia 9000 series or some dedicated smartphones from HTC, the Samsung lacks on-board WiFi, but considering it's being positioned as a high-end consumer rather than prosumer device that's no vast hardship; HSDPA is plenty fast enough, and coverage still greater than that of WiFi hotspots, to make mobile internet access perfectly workable. Bluetooth is present, of course, and stereo headphones via the A2DP profile are supported.
Samsung F700V / Vodafone Croix UI Demo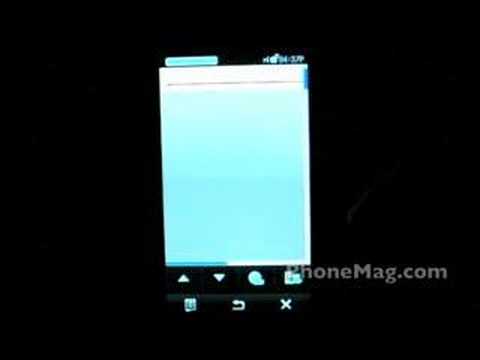 Where the Croix begins to flounder is in using all that functionality. The menu system, rendered in Flash, is a blend of classic Samsung and hints of the LG Prada UI, with the same clear, monochrome iconography that's easy to hit with a fingertip. The haptic feedback system – here comically called VibeTonz – causes the handset to shiver slightly when an app or menu option is selected; it's not true haptic feedback as such, since it's the whole handset that's vibrating rather than just the screen, but if you can get used to that then it's another way of telling you've actually pressed the button. What the F700v could learn, though, is some of the intuitive ease that its Apple rival has in spades; unlike the iPhone, which can be picked up and used straight away, the Samsung has a learning curve you'll be climbing until you're familiar with where options have been hidden.
Still, there are some pleasant UI touches, including a clever scrolling system that allows you to browse lists slowly by touching the right side of the screen, or faster by touching the left side. It'd be a handy addition to Safari; unfortunately the F700v ships with a browser made by Access which has a number of infuriating bugs. Despite the screen size the whole thing feels cramped to browse with, there's no tabbed windows and, if you jump out into another application, Access forgets the page you were viewing and you have to browse to it again. As you can see in the video it's deeply frustrating, and given the strong competition of not only Safari on the iPhone but Nokia's S60 browser and, even, the latest version of IE on Windows Mobile it's a serious black mark against Samsung.
It gets worse: the keyboard, although ostensibly preferable to the on-screen QWERTY of rivals, lacks tactile feedback and is lifeless to type on. Thankfully call quality is reasonable and, despite lacking a T-Mobile SIM to test the F700v with, it worked fine in many parts of the city on AT&T's network. I did find that after repeatedly moving it from pocket to bag the battery cover scratched easily, but the battery inside manages excellent standby and talktime.
My overiding impression is that Samsung really could've done a lot more to improve the F700v. It's a phone with promise, certainly, but in its current incarnation – and with a significantly flawed internet browser – it fails to make a convincing argument against rivals. We'll have to wait and see how well it holds up against Verizon's Voyager handset, but against the iPhone it certainly feels out of its depth.
Click to view the entire Samsung F700v / Vodafone Croix image gallery here!