We've been playing with Samsung's Instinct for Sprint over the past couple of days since our unboxing & first-impressions article, and our initial surprise over just how good a handset it is hasn't gone away.  The carrier's hype machine has been in full effect over the past few months, pushing the Instinct as the ideal partner for the mobile user (and for its Simply Everything plan), and in our experience there's plenty to recommend it.
The Instinct is, roughly speaking, a CDMA version of the Samsung SGH-F490, with a few feature tweaks, Sprint-specific alterations and GUI reworking.  They have the same 3.1-inch 262k color touchscreen with haptic feedback, the same 4.57 x 2.17 x 0.49-inch body and weigh in at 4.4oz.  We covered the basic feature list in our unboxing piece, so we won't rehash it here; suffice to say, slightly narrower than the iPhone it feels even more cellphone-like to hold.
At 240 x 432, the Instinct's display isn't as high a resolution as some we've seen, but it performs excellently indoors (though is slightly washed-out in direct sunlight) and colors are crisp and pleasing.  Connectivity is good, with a standard 3.5mm headphone jack but, bizarrely, sound from Sprint's streaming radio and video channels won't work through A2DP Bluetooth.  Otherwise we had no problems linking up a range of Bluetooth headsets, with sound quality toward the top of phones we've tested.  If you're an avid Simply Everything plan user you'll be pleased to hear that the Instinct's call quality is admirable, both when used normally and as a speakerphone, although the signal strength meter seems unable to make up its mind and varies wildly despite very little movement.
Sprint provide a USB charging cable which also doubles as a way to synchronize the Instinct with your computer; sadly it doesn't show up as a modem at the same time.  The software also sucks up any media files – audio and video – on your PC and offers to funnel them into the supplied 2GB microSD card; videos are automatically converted to MP4 files resized to suit the Instinct's display.  Playback of both is good, with audio crisp and clear, and video (whether converted or not) surprisingly watchable; despite the lower resolution than the iPhone, the Instinct holds its own.
Messaging is a mixed bag, with the Instinct falling a little more on the corporate side than the consumer.  SMS, MMS and email are all supported, with the latter playing nicely with webmail, POP/IMAP and Exchange accounts, but there's no instant messaging client and only plain-text, not HTML emails are viewable.  Attachments can be sent with outgoing email, but not opened from incoming messages.  On the plus side, SMS and MMS can be viewed as threaded conversations, and the 32MB of built-in memory could be used to load a Java IM client.  Unlike the iPhone, the Instinct is capable of multitasking applications including third-party software, so an IM app could stay running in the background; this is an improvement over earlier touchscreen Samsung devices, which closed programmes (particularly frustrating with the browser) when not the in-focus view.
Browsing is courtesy of Teleca's Obigo software, which pales compared to Mobile Safari, Opera 9.5 or others.  However Sprint's 3G data connection is fast, which gives little time to be too frustrated, and it's very usable with finger-drag scrolling (and a pop-up mini-map page view as seen on the Nokia browser) or an innovative motion-panning system that uses the Instinct's camera to track how you're tilting the handset.  The browser is full-HTML compatible, but many sites automatically defaulted to their mobile versions; since the non-MultiTouch display makes zooming less intuitive than on the iPhone, this is perhaps not such a bad thing.  Tapping is, in our experience at least, less accurate than on the iPhone, but the Instinct's haptic feedback (which buzzes whenever you touch the screen or a button) does its best to help.
Text entry is either via T9 or multi-tap in portrait orientation, or a full QWERTY keyboard in landscape orientation.  The Instinct is less presumptive than some handsets; it doesn't automatically correct misspellings, but instead give them Word-like underlines and let you choose from alternatives when you later tap them.  As a system it comes down to personal preference.  Menus are clear and transitions reasonable, and while you can't rearrange icons there's a 'Favorites' page which lets you gather up links to frequently used apps. 
True GPS is a common feature on Sprint handsets, and the Samsung Instinct is no exception.  The carrier's Navigator software has been better integrated into the phone's other functionality – for instance tapping a contact's address prompts the Instinct to offer driving directions – and the EV-DO Rev.A makes mapping downloads super-speedy.  Sadly there's no geotagging of photos, and we're yet to see Buddy Beacon make an appearance on Sprint as was promised back in February.  [Edit: You can find Buddy Beacon for Sprint devices here]
The Instinct's camera is perhaps the handset's one glaring shortcoming.  We could forgive the mere 2-megapixel resolution if the pictures it produced were good, but quality seemed unpredictable and inconsistent.  Sometimes edges would be jagged and colors washed out, other times – in similar conditions – they'd be acceptable.  The absence of autofocus or even an LED flash makes for a very poor experience, though the Instinct – unlike the iPhone – will at least capture video (at 320 x 240, max 14fps).  Sprint's Visual Voicemail service, which promises to offer the same non-linear access to messages as AT&T and the iPhone do, was not working on our handset, but according to the carrier it'll be added as a straightforward update.
Battery life has been reasonable, with Sprint quoting 5.57 hours talktime from each of the two 1100mAh Li-ion packs (one of which can be separately recharged while the other is used); our own data-heavy use has seen the handset expire a little sooner than that, but we'll update this review with more accurate figures once we've lived with the Instinct for a while. 
It's pretty fair to assume that Sprint purposefully pushed the Instinct out of the door to us just prior to what we presume will be the launch of the 3G iPhone, making a point that it's not only Apple that can make successful touchscreen-based handsets.  The carrier has never come out and labelled the device an "iPhone Killer" – they've left that hyperbole for everyone else to use as headlines – but as a rival it makes a strong alternative.  Of course, all that could change tomorrow in San Francisco; join us over at http://live.iphonebuzz.com/ at 10AM San Francisco time to see what Steve Jobs pulls out of his hat.
Until then, it's not hard to recommend the Samsung Instinct.  Coupled with Sprint's Simply Everything plan you'll get plenty of bang for your buck and, with the exception of the camera perhaps, there are no straight-up "bad" elements of the handset.  Frequent messagers might want to try the on-screen keyboard out in-store, but that's par for the course these days (and, frankly, no different to hardware keyboards, which can vary in quality just as much).  Touchscreen accuracy isn't quite as good as on the iPhone, and the GUI isn't as slick, but GPS and EV-DO Rev.A are the Instinct's trump cards and it plays them well.
The Samsung Instinct by Sprint will be available on June 20th, with a predicted price of around $300.
If you read the first part of our Samsung Instinct review early on, you may have missed the exclusive UI video which we added in later.  Just over nine minutes of solid GUI and feature walkthrough, which shows off exactly how well the Instinct keeps up with finger-taps, screen rotations and different apps loading and changing.  Bear in mind that data speed will vary according to your signal strength; we shot the video in an area with middling coverage, so mapping, for instance, might render faster on your Instinct than ours!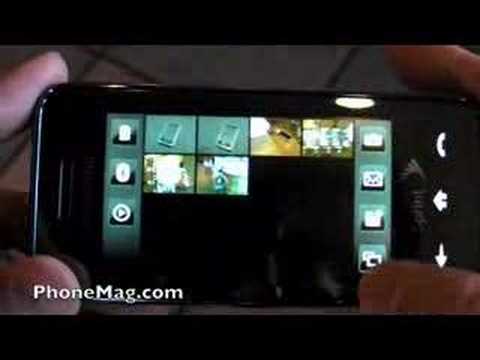 [nggallery id="96"]