The Samsung Instinct exclusively for Sprint is by all means uber-impressive in its own rights. We've written to death about the Samsung Instinct here at Phone Magazine, so it's time that we give it a proper unboxing ceremony, first hand look and then a full review.
Samsung Instinct Overview
The Instinct is primarily a touch-screen centric featured phone that's wrapped up in a thin candy-bar form-factor; measuring 4.57 by 2.17 by 0.49 inches thick and weighs 4.4 ounces. The screen measures 3.1-inch offering 262,000-color touch screen, which will be your interface for almost all of the device's functions including making and ending phone calls. There are three separate touch controls placed right below the display: a Back, Home and a shortcut control that will take you to the calling menu. I'm super thrilled that the Instinct features localized haptic feedback, a faint vibration to indicate you've pushed a button. Haptic feedback is one major feature missing from the iPhone, which we all hope Apple will implement into iPhone 2.0. A QWERTY keypad is available in landscape mode, which offers predictive text. You can touch-scroll through pictures and thumbnail galleries. The user-programmable Favorites menu is neat, as well, and I like the multitasking capability, which allows you to move between different functions easily. You can add applications but can't put phone services because of the phone button already on the handset. Users can also add a music playlist, send an e-mail, store Web bookmarks, TV channels, a radio station, and more.
Other features of the Samsung Instinct makes it a true media phone, which include 3G (EV-DO Rev. A out the door), Music Store for wireless downloads, stereo Bluetooth, audible caller ID, a full HTML browser, voice dialing and commands, a digital music player that shows album art, support for Sprint Radio and Sprint TV, use it as a modem, integrated GPS with Sprint Navigation. The Instinct includes a 2-MP camera and a camcorder and there are buttons that allow you to upload photos and video directly to FaceBook and MySpace.
Unfortunately, the Instinct does not offer a native Instant Messaging client, but it will display the full thread of the text conversation. The Instinct does offer push e-mail, but it uses Outlook Web Access to get to the mail. Unfortunately, Instinct doesn't sync with calendar. With network address book you can sync from your Outlook contacts. If you have an existing device, you can move the contacts over in the store or Bluetooth them over. The Instinct uses the network address book to store everything on the network and you can sync it with Outlook.  The only features that is not operational on the review unit of the Instinct is the network connectivity to Visual Voicemail and Network Address Book. Sprint have tested these features and are quite pleased with how they operate on the device but they are still in the very final stages of rolling them into the production network. The features will be available in the next week or so, and Sprint assured me that the update is a very simple process.
Sprint bundles along a second battery, each promises 5.57 hours of talk time, a 2GB microSD memory card and yes you can use your own 3.5mm headset jack.  Sprint also sent along a battery hold that also allows you to charge the spare battery while it isn't being used!
All I can say at the moment is that I'm pretty overwhelmed ALL the features on the Instinct.  It will take me the rest of the day today to work through them and shoot videos to show you how great they are!  For now, enjoy the unboxing video and images below.
As far as the responsiveness of the touch screen — it's damn awesome.  I never thought I'd ever say this, but the localized haptic feedback works a lot better than I'd imagine or expected.  Great work Samsung.
Samsung Instinct Unboxing and Intro video!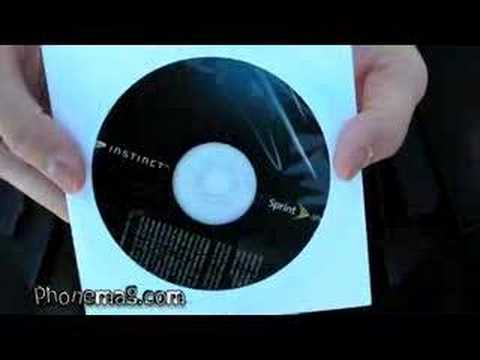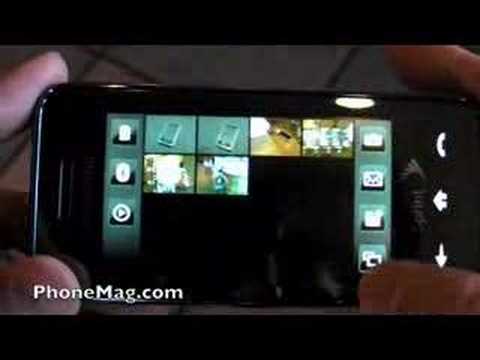 [nggallery id="96"]